I have received an activation email, I wish to activate my space
L'activation de votre espace myPrimobox devra se faire depuis un ordinateur. Cette fonctionnalité n'est pas accessible depuis l'application mobile.
Connectez-vous sur votre messagerie depuis votre ordinateur et suivez les étapes ci dessous:
1. Cliquez sur le lien d'activation présent dans l'email.
2. Saisissez vos coordonnées. Cliquez sur Etape Suivante.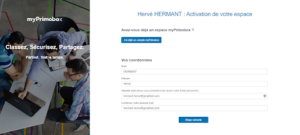 3. Choisissez un identifiant et un mot de passe puis confirmez votre mot de passe.
Si après avoir rempli ces champs, le bouton « Activer mon espace » reste grisé, cela signifie que l'une des informations saisies n'est pas correcte. Dans ce cas, un message en rouge apparaît à côté de l'information qui pose problème.
Si vous avez reçu un courrier papier (et non pas un email) pour activer votre espace, la procédure est légèrement différente. Dans ce cas, rendez-vous ici.